Location
The Fairmont Dallas Hotel
1717 N. Akard Street
Dallas, TX, USA
Phone: +1-214-720-2020
Website: Fairmont Dallas
Fairmont Dallas is ideally located in the heart of the downtown Dallas Arts District, surrounded by an array of fine-dining restaurants, shopping, arts and entertainment. Combining the elegance of classic hospitality with an authentic Texan flair, this iconic luxury hotel is located a few blocks from the Central Business District, less than one mile from the world-famous Sixth Floor Museum at Dealey Plaza, chronicling the life, death and legacy of President John F. Kennedy, walking distance.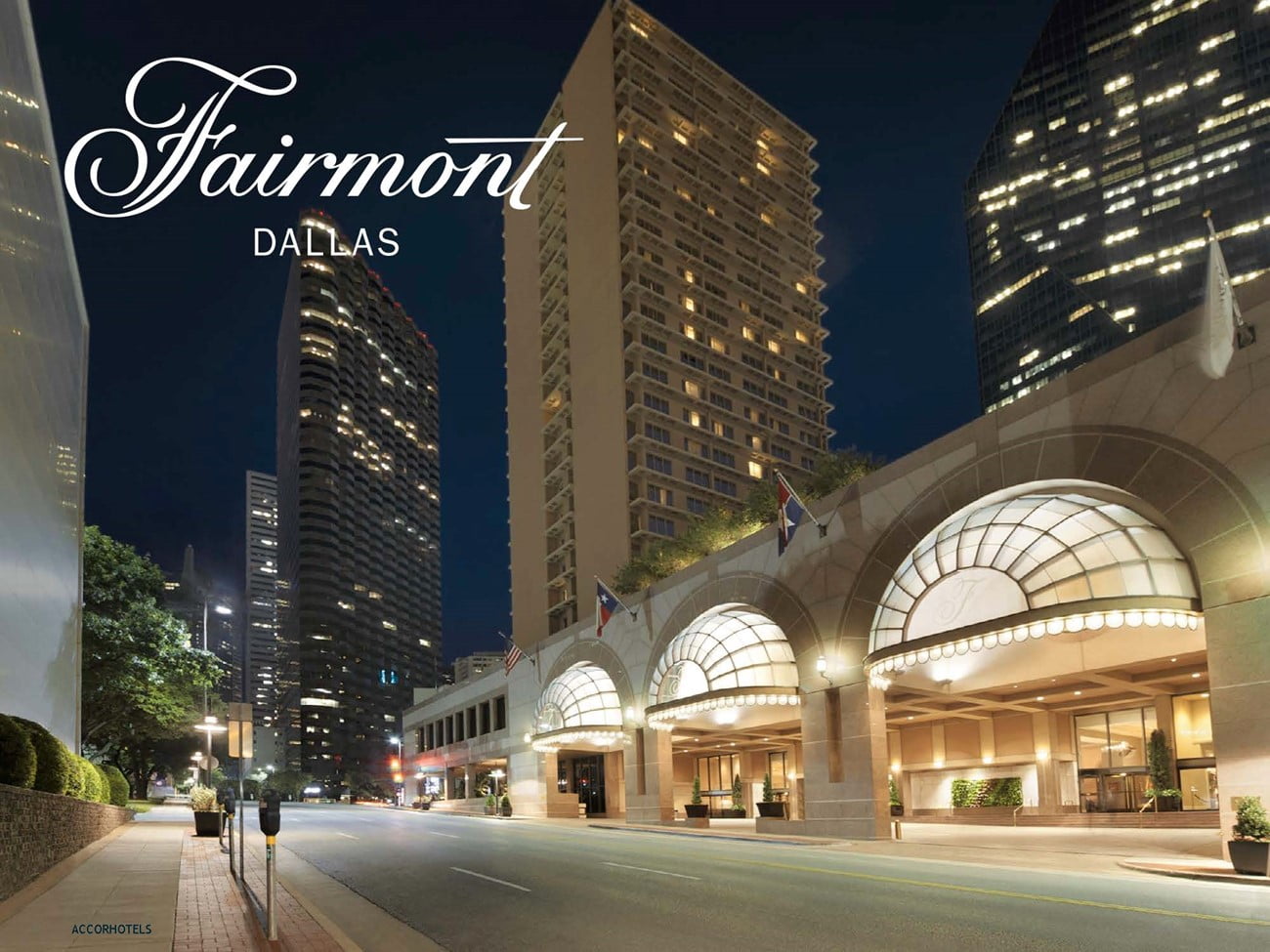 Discounted Room Rates for Registered Attendees
$210 USD (single & double occupancy)
$240 USD (triple occupancy)
$270 USD (quadruple occupancy)
All room requests are run of the house. Bed preference is based upon request only.
Room rates and availability are limited. The Fairmont Dallas reserves the right to cancel or modify this policy at its discretion and without prior notice. By booking a reservation with Fairmont Dallas, you agree to the terms found on the hotel reservation website.
Reserving Your Hotel Room
Further information and instructions on booking your hotel room at the Fairmont will be emailed to registered attendees only.
Please make your reservation early – the group rates are only available through March 14, 2024, or while room availability lasts.
Airport Information
Dallas is serviced by two airports:
Dallas/Fort Worth (DFW)

18 miles (30km) to/from airport to the Fairmont

Dallas Love Field (DAL)

5 miles (8km) to/from the Fairmont Hotel
DFW is the larger of the two airports and the only one that offers international flights. DAL is closer to downtown Dallas but has fewer flight options.
Transportation
The World Congress does not provide ground transportation to/from the airport. Please plan to drive, taxi or take a rideshare (Uber or Lyft). You are responsible for making your own arrangements.
The Dallas Area Rapid Transit (DART) system runs route 408 between the airport and downtown Dallas. Click here for more information about DART: DART to Airports.
The estimated cost from DFW airport to Fairmont Dallas in a taxi is: $45 USD.
The estimated cost from DAL airport to Fairmont Dallas in a taxi is: $18 USD.
Hotel Parking Information
Overnight Guest Rate*

$46 (exclusive of tax) including in-and-out privileges

Visitor Rates*

$24 for less than 4 hours (exclusive of tax); no in-and-out privileges
$30 for 4-8 hours (exclusive of tax); no in-and-out privileges
$46 for more than 8 hours (exclusive of tax); no in-and-out privileges
*Taxi and parking rates are subject to change